Hawk School News
21 days ago
Greetings from South Haven! Fall is here and the school year has gotten off to a wonderful start. We have been very busy learning, teaching, making new friends, and learning to be more responsible.
Our Character Trait for the first quarter was Responsibility. Students were recognized for displaying responsible behavior in many ways. The faculty and staff have paid attention to responsible behaviors and praised students on a consistent basis.
Our Students of the Month for September were: Pre-K- Sammie Gienapp, Bayley Stevens, and Bo Bartholomew, Kindergarten-Jaxxon Callis, Becca Stoudt, Gibson Poole, and Peyton White, First Grade-Gracie Freels, Christian Thomas, Annslee Staten, and Seth Burrell, 2nd Grade-Jayce Williams, Nettie Poole, Mariana Xampala, and Mason Foster, 3rd Grade-Tallen Dailey, Kristin Gienapp, Ariel Hall, and Dominic Smith, 4th Grade-Braylen Dailey, Lillian Pollock, Luke Smith, and Alyssa Todd, 5th Grade-Brody Wood, Rylan Elvington, Braiden Robbins, and Payton Pickens, 6th Grade-Na'keyla Daniels and Emma Murdock, 7th Grade-Briley Williams and Brooklyn Hinson, and 8th Grade-Aubrey Holmes and La'shaun Daniels. Congratulations to all of these students!
Family Art Night was held on September 30. This was a night of fun and creativity at our school. Everyone had a super time at this event!
National School Lunch Week was October 12-15 and was enjoyed by everyone. Mrs. Lisa Payne and her creative crew delighted us with delicious lunch entrees and everyone loved the prizes awarded to celebrate the fun week!
"Meet the Hawks" was a big success and everyone enjoyed this traditional event. A salute to our basketball teams, cheerleaders, and coaches for all of their hard work and for doing their best!
The Second Quarter Rally was held on October 14th and it was awesome! Everyone enjoyed being together to celebrate success at South Haven! This day was also the kick-off of our basketball season. GO HAWKS!
Students celebrated Halloween a little early with the "Boo Bash". Students wore their costumes and enjoyed some fun games and activities on Friday, October 22nd after school. It's always fun to celebrate at school with our school family!
Our Character Trait for the second quarter is School Pride. Grade-level classrooms displayed great creativity by decorating their classroom doors with the theme, "School Pride". Congratulations to Ms. Sam McDaniel and her 4th Grade Class for winning the contest!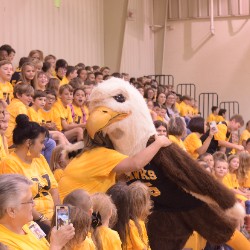 Thursday, November 11
Basketball @ Bargerton JV Girls 5:00
---
School Book Fair
November 15 - 19
Thanksgiving Lunch November 19
Parents and Guardians are invited to eat with their student(s) on November 19 for Thanksgiving Lunch.
Cost: $4
Must reserve your plate by November 5. Notes have been sent home.
Menu: Turkey & Dressing OR Ham Mashed Potatoes/Gravy Green Beans Roll Cranberry Sauce Cookie Bar Drink
Download important information.
Select the sections tab at the top of this page to view the school documents link. Throughout the year you can download school calendars, lunch menus, supply lists, the handbook, and more.
Our school book fair will be in the library all week. Proceeds go to our school library.
November 15-19
A Substitute Teacher training for the 2021-2022 school year is scheduled for November 9, 2021.
Training will be at the Watson Emergency Management Building.
Located at 50 Natchez Trace Dr, Lexington, TN. 
Training is from 8:30 AM- 11:30 AM.
If you have any questions please call
Stacey Valle at 731-968-3661.
Title IX Coordinator
21 days ago
Stacey Valle

Title IX Coordinator
35 E. Wilson St.
Lexington, TN 38351
731-249-1215
valle.stacey@hcschoolstn.org
Please contact Stacey Valle with any concerns or complaints concerning sexual harassment or sexual discrimination regarding Henderson County School district.
Sorry, but there was nothing found. Please try different filters.